Minibus rental in Poland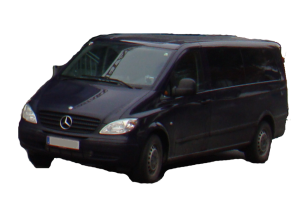 Tour operator City Tours' Polish subsidiary company City Tours Poland enables you to book not only buses and coaches, but also minibuses and minivans with drivers for sightseeing tours and transfers in Poland. Among others, we can provide you with high-quality minibuses for a transfer in Krakow and Wroclaw or for airport transfers to and from Gdansk Airport and Poznan Airport. You can also book a sightseeing minibus tour in Warsaw, tailor-made bus transfers all around Poland, or even intercity transfers, international minibus transfers and minivan trips with a driver.
If your tourist party includes eight or less persons, the team of City Tours Poland recommends booking a minibus with driver instead of a bus with driver.You can book for example the following services in Poland with our Polish charter minibuses:
Minibus transfers: a minibus can reach many places and drive through many streets to which a big bus does not have access. Even the narrow streets in the center of Krakow are accessible in a minibus, and such a vehicle can drive you to or from almost any place - directly in front of the door. What's more, a minibus is much quicker than a coach or a bus , which proves a big advantage during a longer national or international bus transfer.
Sightseeing minibus tours: a minibus has also big advantages when you want to organize a sightseeing tour, as far as manoeuvrability and flexibility are concerned. For example, contrary to a bus, a minibus can park at about any place: this way, our tour guides can really plan their sightseeing programme according to the customers' preferences and wishes.
Minibus excursions: of course, City Tours Poland also offers you minivan rental with drivers for bus excursions starting from any city in Poland. Instead of the standard combination bus + driver + tour guide, small groups can also just book a minibus with a driver guide. This way they spare a lot of money! If you want to spare even more, then City Tours Poland can arrange a group menu in a Polish restaurant.
Minibus trips: minibus trip is an exquisite variation of motor coach trip. Especially small groups under seven passengers have the possibility to hire a minibus with a driver and a professional tour manager, so as to make sure the journey is taking place smoothly. Of course, City Tours Poland provides you with an appropriate minibus or minivan and can also take care of your accommodation.
If your group is small enough for a minibus or a minivan and if we just raised your interest in sightseeing minibus tours, minibus trips or minivan transfers, please send us your request for minibus rental in Poland at . Our team will be delighted to inform you about all aspects of minibus transportation in Poland!