Personal transportation in Poland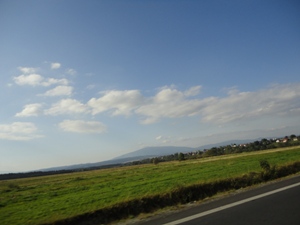 One of tour operator City Tours' specialities all over Europe is the organization of bus transfers in buses, coaches, minibuses or rental cars with drivers. Consequently, City Tours' subsidiary company City Tours Poland also offers - using solid knowledge and competence - all kinds of vehicles with a driver for any kind of personal transfer in Poland and transfers from Poland to any place in Europe or from Europe to Poland. Orders to City Tours Poland for transfers in Poland are not processed in City Tours Poland's office in Krakow, but in City Tours' central bus reservation office in Vienna, Austria: this way, the customer and the travellers enjoy round-the-clock availability and a highly efficient booking system that was developped by City Tours itself over its many years of experience in personal transfer organization. Of course, our transfers in Poland are performed by local Polish bus companies, minibus companies and car hire companies.
Among others, City Tours Poland can organize the following kinds of transfers in Warsaw, Gdansk, Wroclaw, Poznan, Krakow and all around Poland:
Bus transfers: City Tours Poland enables you to book comfortable buses with drivers for any kind of bus transfer in Poland. Among others, our buses are at your disposal for city transfers, airport transfers and international transfers. We can also organize shuttles transfers or a standby service.
Minibus transfers: smaller groups until eight persons can book comfortable minivans and minibuses with drivers from City Tours Poland for their transportation from any place in Europe to Poland or from Poland to any other European country. Of course, you can also hire City Tours Poland's minibuses and minivans for shuttle transfers, airport transfers, city transfers or any other kind of regional bus transfer.
Transfers in a rental car with driver: if even a minibus is too big for the number of passengers, City Tours Poland also offers transfer organization in rental cars with drivers. We can for example provide you with a car and a driver for your transfer to or from any airport in Poland.
Horse-drawn carriage transfers: last but not least, in some Polish cities - especially in Krakow - you can also book unusual kinds of vehicles, for example horse-drawn carriages.
For more information about bus transfers and further personal transfers in Poland offered by City Tours Poland, please contact our team at . We would be delighted to organize your private transfer in Poland, and we are looking forward to your email!